Civic Awards 2023
Bexhill-on-Sea Town Council presented awards to a range of local volunteers and charities at a special ceremony at St Augustine's church hall on Saturday 18th March.
The civic awards celebrated local individuals and groups who give up their time and energy to make life better for people in Bexhill.
Individual awards
The individual award winners were:
Harriet Chapman: Harriet has dedicated 42 years of service to the League of Friends and Bexhill Hospital. Her contribution has added much to the finances of the group, which has supported the hospital and patients with gifts totalling millions of pounds.
Dave Dickinson-Smith, Chair of the Bexhill Taxi Drivers Association: Dave is well known around Bexhill for the support he gives to other residents, getting many elderly people in the town to hospital appointments.
Trudy Hampton, Warming up the Homeless: Trudy has single-handedly transformed a group of friends giving out a cup of tea and pot noodles, into one of the largest registered charities in the area which provides food, clothing, advice and mental and physical assistance.
Lynn and Jim Langlands, Bexhill food bank: Each week Lynn and Jim organise for volunteers from the Rotary Club to go to local homes, businesses, schools, and charities to collect food donations for the food bank. This began in the 2020 lockdown and has continued ever since. Most weeks they collect around 200kg of food, making a real difference to local people in need.
Graham Oliver: Graham can often be seen around town making people smile and offering to help others out. He volunteers in charity shops and show his support to local businesses however he can.
Keith Rhodes: Keith was instrumental in resurrecting the Bexhill flag. His research found that Bexhill's town colours committee designed this flag in the 19th century. The committee adopted it on 29 July 1893, and it flew in public later that year.
Nim Whitmash, Bexhill Carnival: For 60 years Nim Whitmash has been involved in the annual Bexhill Carnival. The carnival is the oldest continuous carnival in Sussex thanks to Nim's determination and hard work.
Jacqueline Youldon, Running Space: Jacky is the Founder and Director of RunningSpace. She goes above and beyond to support people that are facing the challenge of poor mental health and/or that are affected by suicide, to help them get active and be connected to people in a safe and welcoming environment.
Group awards
A number of groups were also recognised for their dedication to Bexhill:
The Bexhill 100 Motoring Club: In 2022, The Motoring club raised £20,000 for their four chosen charities. They've now raised more than £130,000 since 2005.
The Bexhill Girls U11 Football team: This group of young girls are inspiring other girls to break convention and compete in what has traditionally always been a male dominated environment.
The Bexhill Hub for Ukraine: The Rev David Lockwood along with Ruth Frais, Susan Gedge and Valeria Dvornyak have worked tirelessly with Ukrainian guests arriving in Bexhill, to make sure they are welcomed, supported and safe.
Bexhill Rotary Club: The Rotary club are known for doing many things in support of local causes such as tree planting, senior tea parties and in-school reading mentors. Every Tuesday volunteers drive around Bexhill collecting donations for the food bank. This year, The Rotary Club has secured over £25,000 worth of food for the food bank.
Bexhill Skatepark Action Group: The success of the skate park would not have been possible without this group's contributions, perseverance, and dedication. The group's members now act as role models and ambassadors for other skatepark users to look up to, learn from and seek help from.
Freedom of Bexhill award
The final award of the afternoon was the prestigious 'Freedom of Bexhill' award.
The Bexhill 100 Motoring Club chairman Chris Speck was presented with this award for his lifetime of service to the town.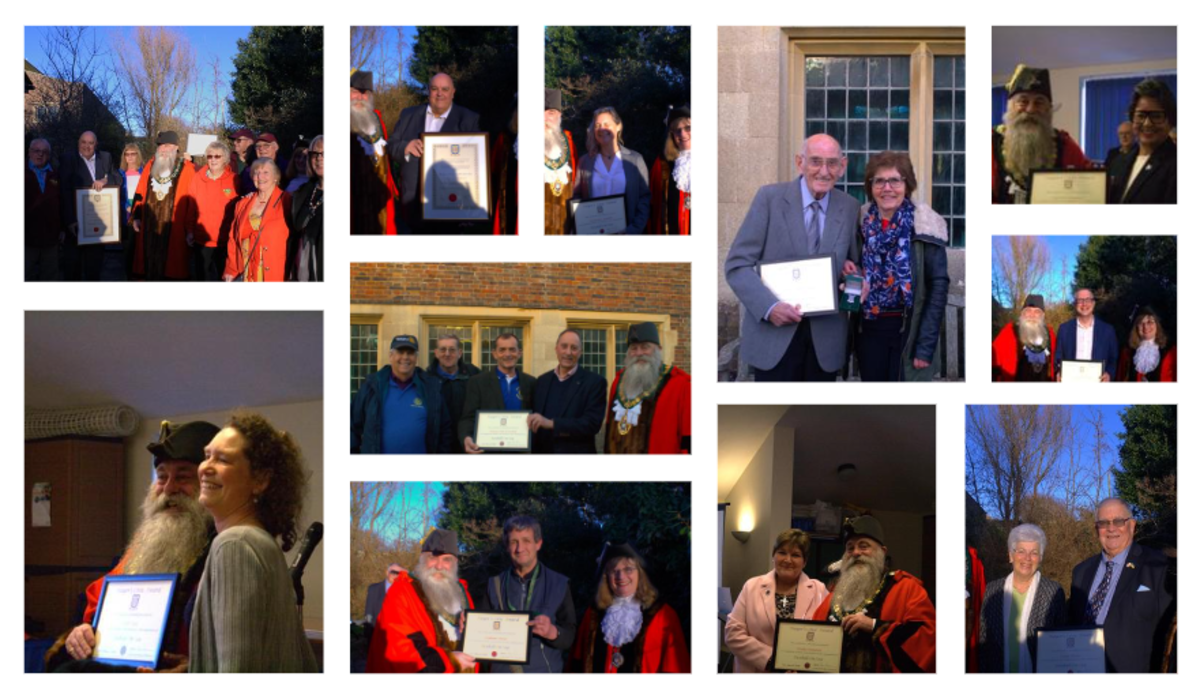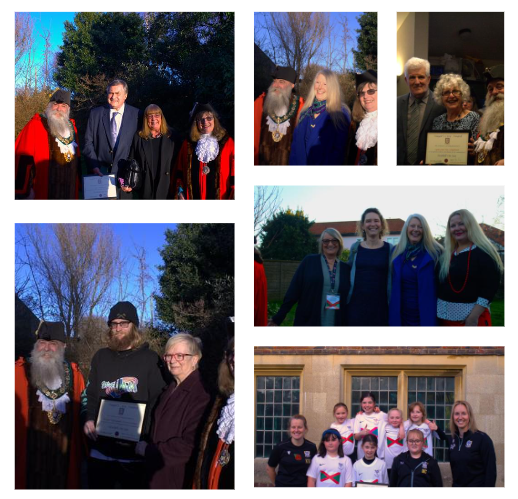 Do you know someone that has made a positive contribution to the well-being of the people of Bexhill?
Do you know someone that has demonstrated outstanding citizenship?
We are now accepting nominations for civic awards to recognise those that have made a positive impact on our town for the period May 2023 - March 2024.
The criteria to receive an award is flexible and each individual's contribution to the town is measured by comparing the nominations received. Nominees must be residents of Bexhill.