Annual Town Meeting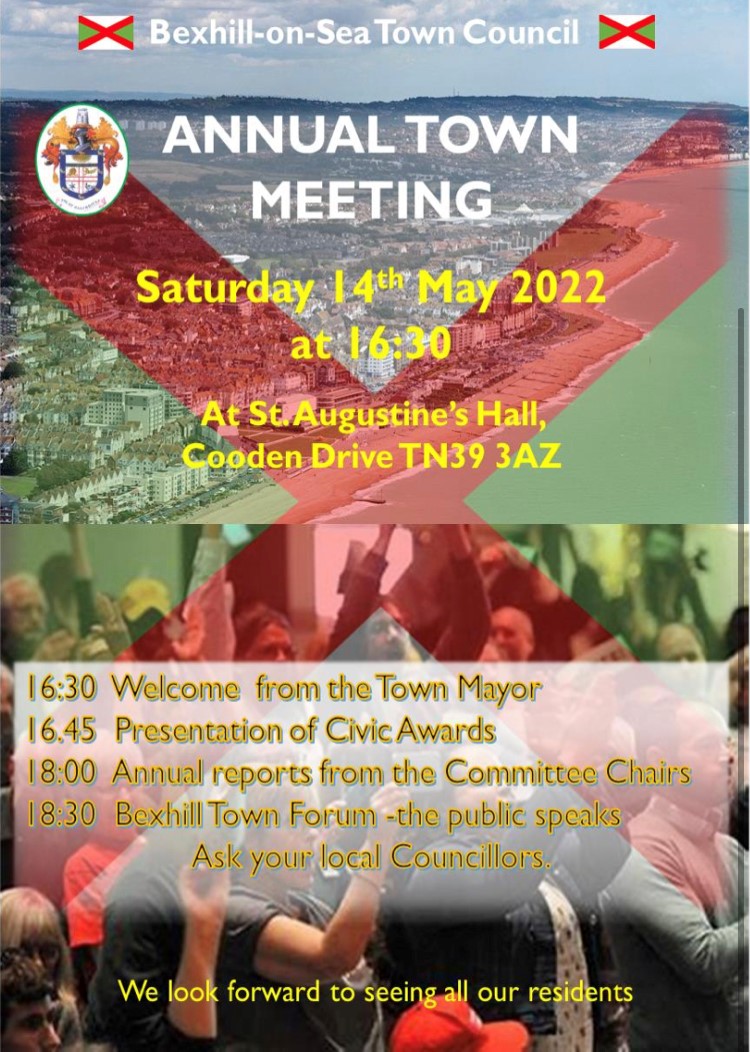 We are pleased to welcome the Royal British Legion Band who will be playing from 4.15pm.
Our wonderful civic award winners for 2021/22 will be announced on here shortly.
The Freedom of the Town is legally being conferred to the amazing Alexis Markwick at a special formal council meeting on 11th May 2022 at 6pm in the Council Chamber. We will be presenting Alex with his award at the Annual Town Meeting on Saturday 14th May at St Augustines.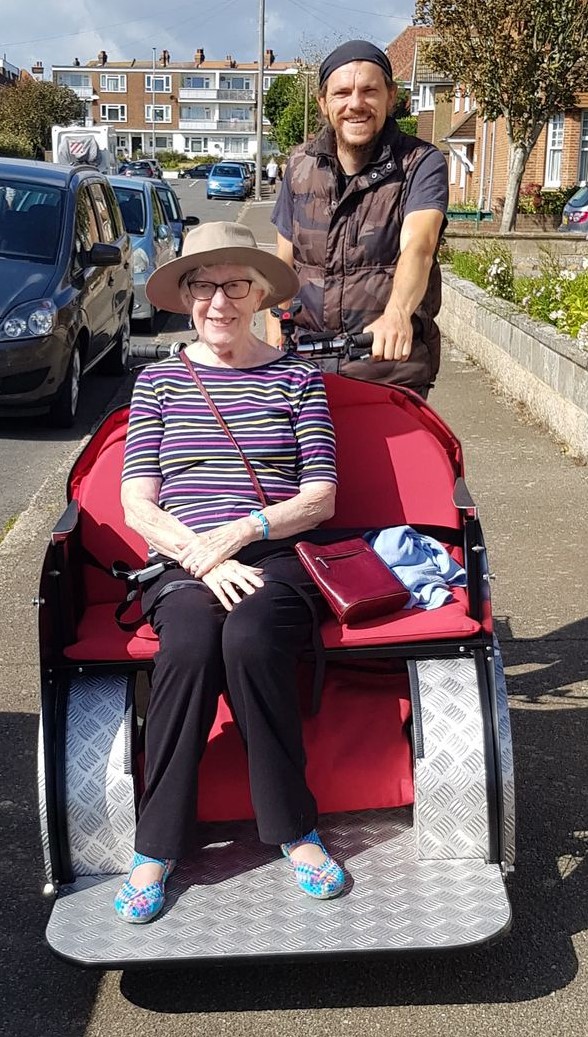 Our Civic Award Winners for 2021-22 have done so much for our town this year.
Congratulations to them all!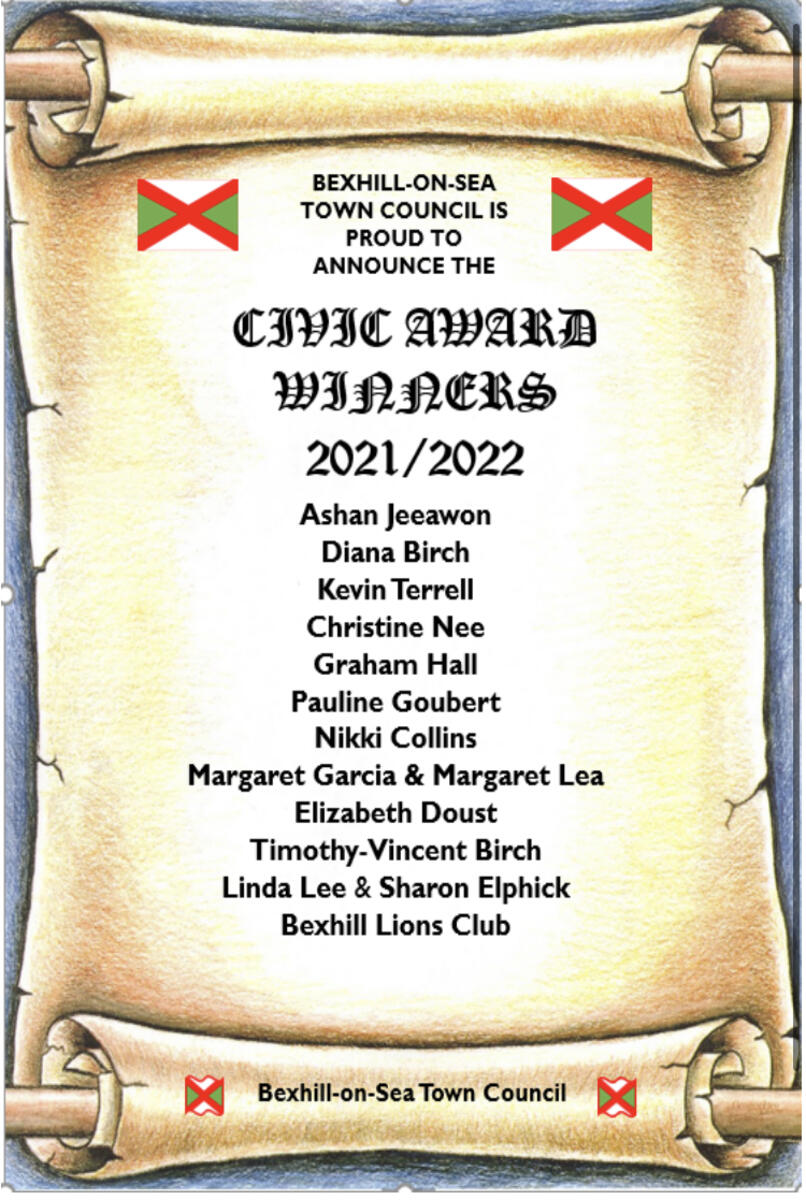 ANNUAL REPORT
CHAIR, PLANNING COMMITTEE
CLLR PAUL PLIM
As a committee we have all undergone something of a steep learning curve into the subject of planning regulations. Over and above our planned committee meetings we have had meetings with the Chair of Rother District Planning committee Cllr Johnathan Vine-Hall. Who explained the Rother District Councils role within the planning environment. We also had a very informative brief introduction to Rother District strategic plan from two officers of the district.
Although not the local planning authority ourselves, we are a principal consultee and will continue to help represent the views of the people of Bexhill to the District planning committee.
We would encourage anyone who has a view over any planning application within Bexhill to use the Bexhill Town Council planning committee in order to air those views. Whilst we cannot guarantee that the committee will necessarily agree with you, we will ensure that your views will get a fair hearing. In deed in some cases where the committee do agree we will submit our recommendations to the district for consideration.
It is my view that over the coming months and years our planning committee will become a vital tool that the people of the town can utilise in order to shape future developments within Bexhill.
ANNUAL REPORT
CHAIR, FINANCE & GENERAL PURPOSES COMMITTEE
CLLR BRYAN CLASBY
With invaluable help from the Rother District Council Steering Group, the new Bexhill on Sea Town Council was launched a little over one year ago. Of the many important jobs to be done, careful and prudent spending of the Town Council Tax ( the precept ) was high on everyone's agenda. To ensure we got off on a firm footing our first budget was set following detailed consultation with the Steering Group. This meant that we had to set aside budgets for items such as premises, equipment, election, allotments, staff, external audit fees, reserves and many other costs that were central to our efficient and effective working.
We were always mindful that we had promised to consult all residents about their priorities for our town, and that we needed to put a sum of money aside to begin implementing some of the changes and improvements that were highlighted in the returned questionnaires. That process is currently underway. Shortly we will be reporting back to residents about the initiatives that are already happening. As an example, and highlighted in the questionnaires, additional cuts to the grass verges have begun, and are helping to smarten up our town.
With the experience of managing our budget for one year, and with a determination not to inflict unreasonable increases on our residents in our second budget, covering 2022 - 2023, the increase agreed upon limited the rise to just 64 pence per year for a Band D property, making the equivalent annual cost £23.23 per year. This sum is about one fifth of what Rye charges, and about one sixth of what Battle charges.
As we approach preparations for the 2023 - 2024 budget there will be many pressures. For example, discussions are at an early stage to consider whether or not the Town Council assumes responsibility for the fourteen public toilets that Bexhill has, as well as possible responsibility for bus shelters, amongst other services. At the moment, though, it is a question of watch this space. Any decisions, and considerations will be updated and included in our Newsletters, and on our website, to ensure that we continue to develop a dialogue with our residents. Throughout this complex exercise we have been fortunate to have been led by our Responsible Financial Officer and Town Clerk, Julie Miller. The expertise, qualifications and experience that Julie has brought to the role have been invaluable.
ANNUAL REPORT
CHAIR OF COMMUNITY COMMITTEE
CLLR CLAIRE BALDRY
The Community Committee is responsible for consulting with residents and supporting community organisation. We have met ten times so far, which includes several extra-ordinary meetings.
It was the Community Committee which drafted the 'Big Survey' to discover more about what the residents of Bexhill wished the Town Council to prioritise for their town. The response to the survey has provided the foundations for the council's future plans and is being used as the basis for our five-year strategy which is currently under consideration by the committee before further scrutiny by Full Council.
Communication with residents is a large part of the Community Committee's role, and we led the work which resulted in the Town Council's first newsletter with plans to install our first five notice-boards this summer in various areas of Bexhill. We contribute to ideas for the development of our website and social media presence, and are currently investigating cost-effective and high quality ways to record or live-stream our meetings. We support arrangements for setting up stalls so that Cllrs can occasionally meet residents at a number of events in Bexhill, for example the Farmer's Market.
The Community Committee also took over the initial work of the Covid Recovery Group and has helped to move forward proposals for 'Happy to Chat' initiatives for benches and cafes in Bexhill, together with plans to make Bexhill more dementia friendly and to improve provision for the well-being of residents of all ages…more details to follow!
We have overseen the arrangements for Remembrance, choosing a Town Crier, the annual Town Meeting and presentation of awards, as well as the preservation and promotion of the town's traditions, history, insignia and civic regalia in order to encourage pride in our town.
We have approved a continually developing programme of training for councillors.
I would like to thank the members of the committee for their positivity, hard work and willingness to learn in the first year of our council. Especial thanks are due to our Town Clerk who has patiently guided us on procedure and written numerous discussion papers and project plans to help to shape our proposals and move them towards completion.